Mobile Fiberoptic Endoscopic Evaluation of Swallowing (FEES) is a well established technique that has revolutionized the field of dysphagia diagnostics. FEES is a sensitive, accurate, portable, and safe procedure that assesses swallowing physiology, swallowing safety, and swallowing efficiency.
Mobile FEES eliminates the costs and inconveniences associated with other types of dysphagia imaging, such as trips to the hospital or parking lot.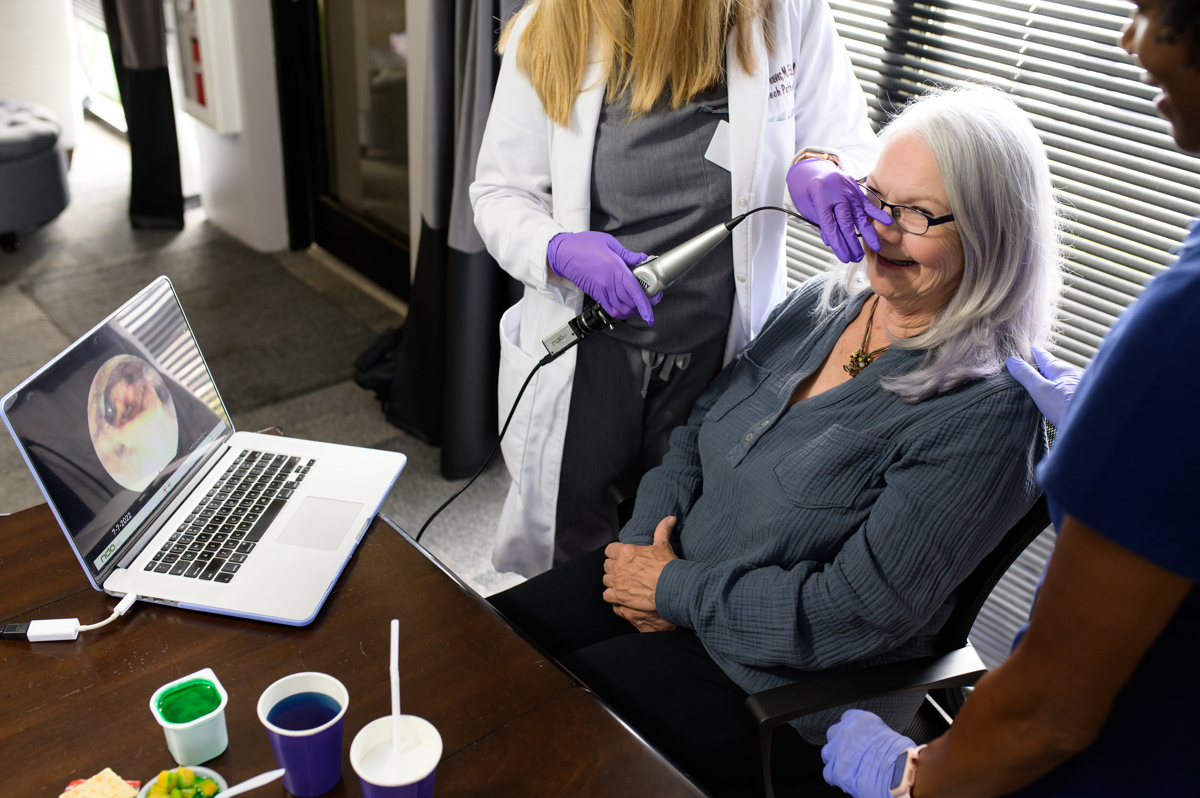 Benefits
Mobile FEES is performed at the patient's location, in the patient's comfortable and familiar eating position.

 

Mobile FEES eliminates scheduling delays.
There is no radiation exposure with FEES.

 

With FEES, normal food is tested – unlike MBSS, which uses unpleasant, barium-tainted food that changes bolus viscosity and may cause constipation. FEES can test any food or drink items requested by the patient and their SLP.
FEES is performed in the patient's natural eating position, including sitting upright in a chair or reclined in bed.

 

A physician does not have to be present during a FEES study.
FEES can be conducted with medically-complex and fragile patients who otherwise would not tolerate a trip outside of the facility. This includes patients who require ventilator support as well as patients who may become easily agitated when transported from their familiar environment.
Digital recordings of FEES are securely stored and accessible.

 

With our prompt scheduling and ability to come directly to your patient, mobile FEES improves staff utilization. Your SLP can bill swallow therapy on the same day as FEES to maximize productivity and reimbursement.

 

There are significant cost advantages associated with FEES, including increased Medicare reimbursement rate when compared to MBSS.
Value
Clinical Excellence – We are the mobile FEES leader, staffing our practice exclusively with highly skilled endoscopists. We do not hire new grads or clinicians who do not have an extensive background in swallowing and swallowing disorders.
Prompt and Efficient – Our mobile FEES endoscopists are committed to serving the residents of your facility within 3-5 business days.

 

Convenience – We bring our own diagnostic food and liquids, and color reports are printed onsite immediately following each exam. We can utilize food and liquids outside of what we bring, but we will have all the basics to complete the study so that your staff doesn't have to run to the kitchen.
Financial Value – Mobile FEES saves money. Time away from the building is money lost.
Continuing Education – Carolina Speech Pathology is an ASHA CEU provider and offers educational opportunities for our customers at reduced cost.